We make you live healthy and happy life
Our teaching combines ancient yoga practices , modern scientific background and experience.
click here
W

ho are we?

In Soham Yoga Studio™ (SYS), we are a group of stalwart Yog practitioners working relentlessly towards just one goal - finding ourselves through Soham (meaning "I am that" in Sanskrit)…

The sedentary lifestyle has been incessantly hampering the physical and mental well-being of people. Soham is our initiative to help you heal yourself, and attain that bliss in the best of your health. We devote a few hours from our daily schedules for Yog, and we believe that it will bring a change in your lives as it has brought in us. Happy healing!

Changing peoples' lives since a decade.

Words of students who have seen transformation with yoga and diet
T

eachers:

Dr. Umesh Dwivedi : Dr. Umesh is Government Certified Yoga Teacher and also a researcher. He has been practising yoga for many years. He has also participated in international yoga conference, workshops and attended many yoga schools.
He is columnist in Times of India for Times Wellness and Speaking Tree columns. His articles are also published by Government Organizations.
Besides yoga teacher , he is PMP (PMI , USA) certified IT professional with many years of industry exposure as well.
Dr.Umesh Dwivedi is actively involved in research of various fields. He was awarded docotrate by Mr. Prakash Javdekar (HRD Minister, Govt of India), Mr. Arjun Meghwal (Corporate Affair Minister), Dr. Kasturirangan (Director ISRO) and Padmashri Dr. HR Nagendra (Guide, Ex NASA scientist and cosultant to Harvard University & British Columbia University)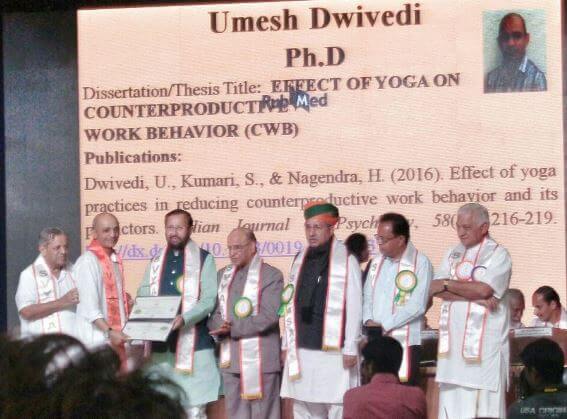 Click here for more event photos

Mrs Dwivedi : Anu has been practising yoga for many years now and she takes care of Ladies batch and any other ladies assistance, if required. Being mother and home maker herself, she can guide very well to other women on various women related issues. She has taught many pre and post natal students.
She also suggests diet and resolves other dietary queries. She also guides about Healthy Recipes. As her hobby she also does Crochet Patterns.


Soham Yoga Studio™ (SYS) : has contributed articles in leading news paper "Times Of India" and other Government Organizations. Please refer our articles on News Page.
»In SYS, we understand impact of office stress on physical and mental level and we guide accordingly.
»Our teaching combines ancient yoga practices , modern scientific background and experience.
»We have done extensive research of ANCIENT YOGA PRACTICES to teach authentic yoga.
»We do cover MEDICAL AND SCIENTIFIC background of yogic practices while teaching.
»We have earned EXPERIENCE through teaching yoga for many years that reflects in our Testimonial Page.
G

reen initiative by SYS:

SYS has started new initiation by distributing Yoga canvas bags to students and other (for purchase) . Yoga bags are distributed to avoid use of plastic bags and to make more and more people aware of yoga benefit. We are happy to see students spreading message of yoga while carrying bags.
J

oin us for:

Yoga is known for:
Mental and physical well being for all
Decreased level of stress/anxiety in working professional
General fitness for housewives and elderly people
Better concentration for students
So far many people visiting us have seen positive results in:
Asthma
Addiction Recovery
Acidity
Constipation
Sinus (Sinusitis)
Hormonal Imbalance
Hypertension
Obesity (Overweight)
Varicose Vein
Thyroid
Migraine
Allergy
Infertility
Insomnia
Back Pain
Sciatica
Knee pain (Ligament)
PCOD Or PCOS Or Ovarian Cyst
To know more about joining formalities, please visit
Services Page.
W

ho is Soham ?

Soham is not name of any person in SYS but it is derived from ancient Sanskrit word.

Pronunciation:
Soham is pronounced as So' Hum'.
Meaning:
It is combination of two words Sah = that and Aham = I. Therefore Soham = "I am that". Here we identify ourselves with something very vast (nearer to Him, Brahman, the Vast, infinite) so that the expansion of consciousness takes place.
As a Mantra:
The Soham mantra is a natural mantra because it is already part of your nature.
So'ham is the inherent in everybody, in all of us; it repeats itself continually, along with our breathing.
Sooooo... is the sound of inhalation, and is remembered in the mind along with that inhalation.
Hummmm... is the sound of exhalation, and is remembered in the mind along with that exhalation.
Other names or designations:
The mantra is also designated as Hamsa, Hansa, Sohum, So Ham, or So Hum.
Hear Soham:



**sound file is taken from swamiji site